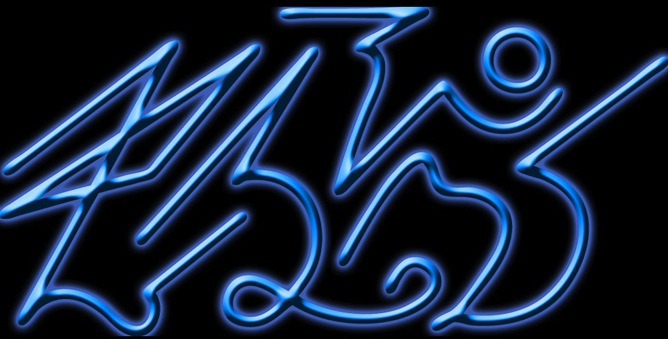 SIGIL FOR THE OVER-ALL ANGEL OF BELVASPATA
Kelechnutvaveleshvispata (the angel's name)
Updated 02/22/2020 by Jan
The healing modality received by the Seer Almine in 2006 is "angel powered". Wow! What does that mean?  Here's how it goes: we use sigils, which represent the angel's function (their 'job') and we have their names. This is akin to having their name and phone number, allowing us to call upon them for assistance and because it is their function, they are required to respond.
Anyone can use Belvaspata but initiation is required. Why is that so?
The preparation for initiation into any of the 4 levels of Belvaspata is specific to that level.
The result of the preparation is that we experience a raise in our frequency, which enables us to be more receptive to receiving initiation. The initiation also raises our frequency. If the preparation for initiation is not done, or done improperly, the raising of frequency can be uncomfortable, creating forced change that may appear as chaos in our lives.
In a webinar (Cutting the Ties that Bind to the Matrices of Suffering 2018), the Seer performed a new Belvaspata protocol: Metaphysical Belvaspata for Healing of Drug and Alcohol Addiction. The special significance of her presence conducting the ceremony, along with insights gained from the content of the protocol itself created an unusual situation. During this event only, the high frequency enabled even those participants who had not received Belvaspata initiation to perform this Belvaspata on themselves.
The usual case is that initiation is required for the use of all Belvaspata healing modalities and there are only 2 ways to receive initiation:
One can receive initiation in person from a Belvaspata Master or Grand Master (one can initiate up to, and including their own level of initiation).
Self-initiation is possible by following the directions given in any of the three published Belvaspata books (click on the link below to view books). Almine advises having a mentor to assist with self-initiation. Some people feel confident to proceed on their own – please read and follow the directions given in the Belvaspata books.
Please note that long-distance initiation into Belvaspata is not an option. (Digital technology has moved so rapidly that it isn't mentioned specifically in our Belvaspata Angel Healing books. However, the use of digital technology to perform long-distance initiation is not approved by the Seer, whether using Skype, phone, FaceTime, etc).
Belvaspata Angel Healing Volume 1, 2 and 3 books: click here
How to become Initiated into Belvaspata: click here

You may also be interested in: The Metaphysical Belvaspata for Healing Drug and Alcohol Addiction specialty protocol ebooklet. Contact [email protected] to purchase (all proceeds go to Almine).