Heart disease is accurately named for although its causes can be structured like a disease, it occurs due to the intermingled leakage of black and white light and frequencies. White frequencies that are felt as emotions and feelings are left in the slumbering potential of the past when the heart has attachments to what has been. The past has black light or subliminal frequencies.
The moment can be called a package of white light – white light wrapped in a membrane separating it from the black light of the future or the past. When we obsess, yearn for, or regret the perfection of the past, or put life on hold for the future, it causes tears in the membrane of the moment – a leakage of the heart of existence: the moment.  White light leaks into the black and white light (which is disease causing) into the present. Heart disease develops.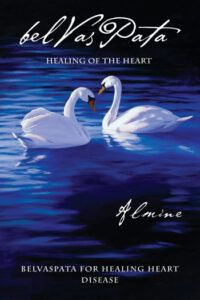 Note: Note: All levels of Belvaspata masters may use the sigils in this Belvaspata modality without any further initiations.
 NEW: 1st Edition, March 2018
PDF download 210 pages
Click here to purchase!